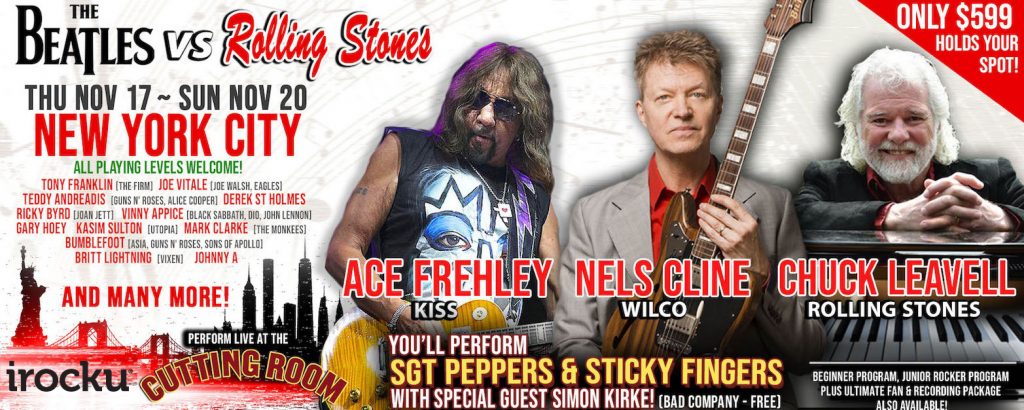 Chuck will be headlining a live rock camp in NYC on Thursday November 17 thru Sunday Nov 20. The camp will feature ACE FREHLEY, NELS CLINE, CHUCK LEAVELL, SIMON KIRKE AND MORE SURPRISE GUESTS! This BEATLES VS STONES Fantasy Camp is a camp for musicians to take their skills and confidence to the next level, realize their dreams are possible, and create bonds and friendships for life with fellow aspiring musicians. Playing with the camp's counselors and guest star musicians over four days will make YOU a better musician! At this camp, you will select the band you want to join, jam hits from both the Rolling Stones, The Beatles, WILCO, FREE, BAD COMPANY and more – and prove YOUR favorite is the better band at the final night's showdown at THE CUTTING ROOM! Your choice in band does not preclude you from playing songs from the opposing band! You will want to play at least one song from each band. At your final performances: On Friday night, perform Sticky Fingers albums, and more. Then on Sunday Night, the collective camp bands will perform the entire Sgt Pepper's Lonely Hearts Club Band on Sunday WITH A FULL ORCHESTRA. 
For more information about the camp and to let Chuck know that your are considering joining him, please contact us at rockcamp@irocku.com.
Over the course of camp you will:
Rehearse with your band gearing up for your live performance and headliner jams.
Attend master classes taught by world-renowned rock star counselors.
Participate in themed jam rooms (a great opportunity for you to get to know counselors other than your own).
Participate in Q&A sessions with rock star counselors AND Special Guests, where you'll hear the behind-the-scenes stories that only they can tell.
Perform a live performance in front of your family friends and a live audience.
Perform with your camper band at THE CUTTING ROOM in NYC.
Enjoy all-hands-on-deck performances by rock star counselors, and the opportunity for you to jam with them.
PERFORM YOUR FAVORITE HIT SONGS WITH YOUR HEROES!
Learn how to play rock and blues piano from one of rock's greatest. Chuck Leavell, legendary keyboardist for The Rolling Stones, The Allman Bros, Eric Clapton, John Mayer, and more.