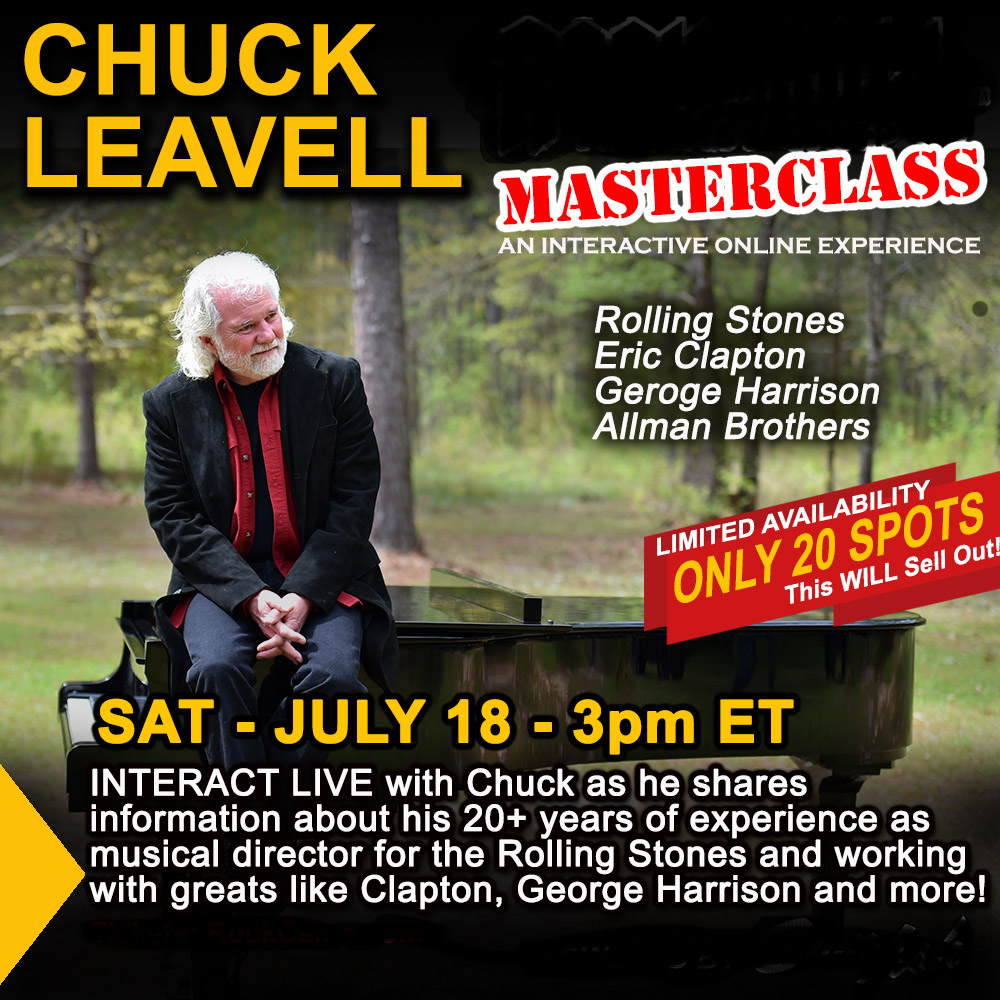 Interact live with Chuck in this exclusive masterclass. Learn from his years of experience being the musical director for the Rolling Stones and having performed with everyone from Clapton to George Harrison, as well as his career in environmental and conservation work. Directly ask him a question you've always wanted to know! This class is open to musicians and music enthusiasts alike!
Ticket price: $200
There are only 20 spots available s0 contact us directly at chuckmasterclass@irocku.com to register for the event.
About Chuck:
Chuck Leavell's keyboard work has been heard on the works of Eric Clapton, the Rolling Stones, George Harrison, The Allman Brothers Band, The Black Crowes, Blues Traveler, Train, Martina McBride, John Mayer, David Gilmour and many other prominent artists. His association with the Stones began back in 1982 and is still going strong, having recently toured with the Stones on their No Filter tours of Europe and the US. He is heard on their most recent grammy-winning record, Blue and Lonesome, and has served as Musical Director for the Stones for more than 20 years.
Chuck can be seen and heard on the "David Gilmour: Live in Pompeii" CD and DVD released in 2017. He is also a 'first call' session musician, working in studios around the world.
Chuck is also an artist in his own right, with several successful solo CDs in circulation, the latest of which is "Chuck Gets Big" on BMG records, with a 17-piece Big Band.
He is the author of four books: Forever Green: The History and Hope of the American Forest; Between Rock and a Home Place (autobiography), The Tree Farmer (a children's book); and his most recent is Growing A Better America, about "smart" growth. In Feb of 2012 Leavell received a Lifetime Achievement Grammy for his work with the Allman Brothers Band as well as an Honorary Ranger award from the US Forest Service. A conservationist, sustainable development advocate, and tech entrepreneur, Leavell co-founded The Mother Nature Network (www.mnn.com) in January of 2009, now the world's most-visited website for environmental news, information and education. His latest project is a TV program called "America's Forests with Chuck Leavell", for which he is the host. He and his wife, Rose Lane Leavell, live on their 4000 acre award winning Tree Farm, Charlane Plantation (www.charlane.com) in Bullard, Ga.