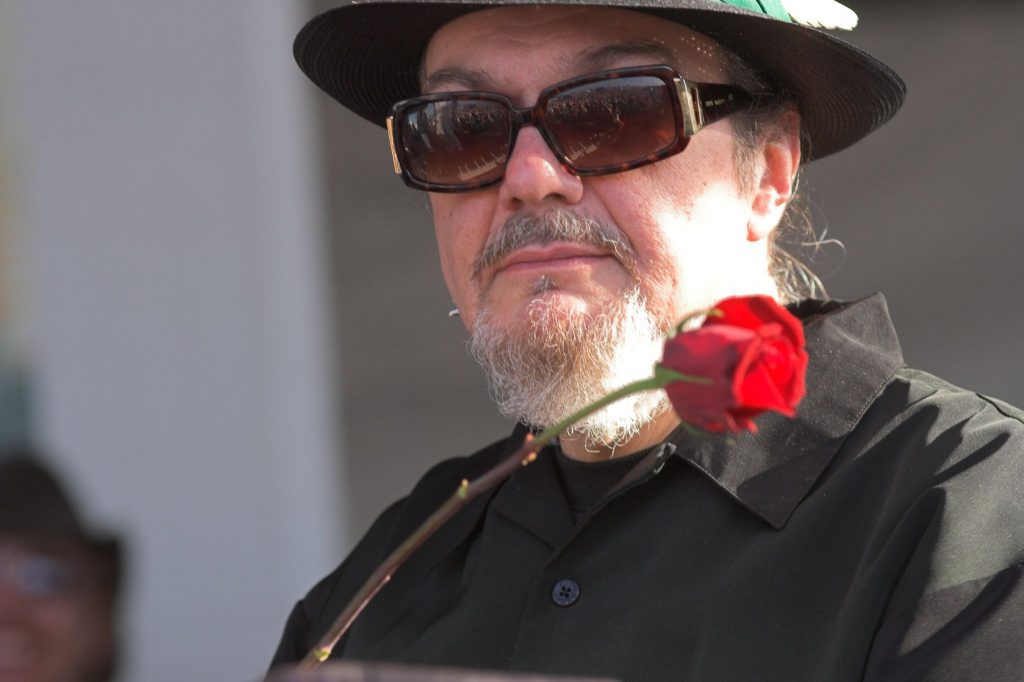 I met "Mac" ( aka Dr John) in 2010 after one of his gigs at SUNY Purchase, NY. During the intermission Mac's drummer, Roscoe (Herman Ernest III) was meandering through the crowd striking up conversations with whoever was within his reach. Roscoe was a charming guy and a fireball of charisma. Roscoe asked if my wife and I were enjoying the show and then asked if I was a musician. "Not really, but I am teaching myself how to play rock piano"… when my wife chimed in with "and he's writing a book about it". Well, that was all Roscoe needed to hear. Roscoe dragged us back stage to meet with Mac. In a language that I barely understood Mac said " guy (that was me!) dat's a great idea. Lezz do dis ding". And that was how IROCKU got started. That was also one of the last shows that Roscoe performed before he lost his battle with cancer in March of 2011. IROCKU owes it's existence to that chance meeting with Herman "Roscoe" Ernest III.
Over the course of the next few weeks, Mac would call me from his tour bus to dump on me the songs he wanted to include in the program and what made up his special sauce. We needed Professor Longhair, The Meters, throw in "Rockin Pneumonia" and of course some of Mac's signature songs, "Such a Night" and "Right Place, Wrong Time". We should teach left-hand/right-hand independent rhythms so that our students could learn how to play a New Orleans second line rhythm with their left hand. Mac also stressed that the key to his success was that he could seamlessly play in any key. "When you can play in any key, you get the gig". That's why you'll see that many of our exercises and improvisations are presented in multiple keys. These conversations with Mac went on for a few weeks, each one more colorful than the previous, but I was quickly realizing that I didn't have the piano chops to play, let alone teach, all that Mac was dumping on me. I needed much more than a handful of phone calls to teach rock piano to the world. That's when Chuck Leavell stepped in to help out. It's fitting that the torch for the IROCKU rock piano curriculum was passed from Mac to Chuck. Back in 1969, early in Chuck's career he toured with Mac for six months. Chuck considers that period to be his "college education".
Dr. John thank you for all the music you've given us, thank you for your inspiration, and thank for the tremendous musical legacy you have left us with. We will miss you dearly.
Howard (and Chuck)
Here are Mac's Lesson Picks:
"Right Place Wrong Time" piano lesson