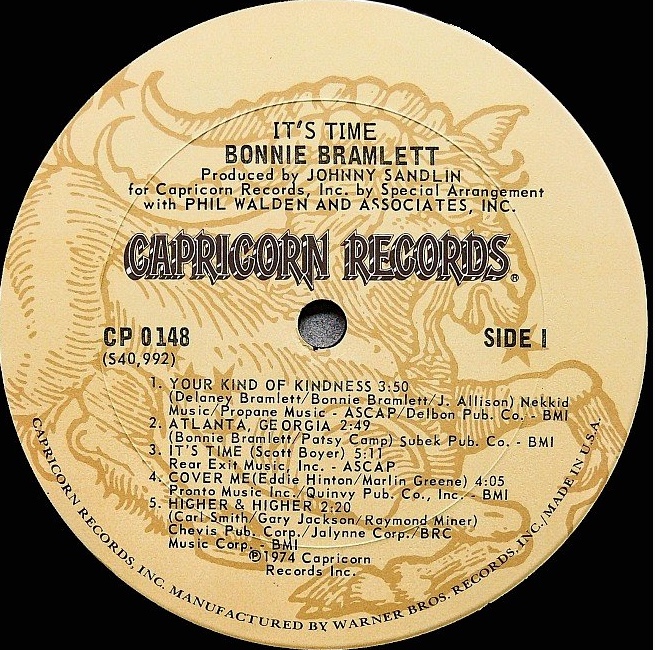 In the 1960s, The Beatles and the Stones ushered in the British Invasion while Berry Gordy brought us Motown. But if you were a high school or college student in the 1970s chances are you also had a few Capricorn Records in your vinyl collection. Capricorn Records was a label hailing out of Macon, Georgia that was founded in 1969 by Phil Walden, Alan Walden, and Frank Fenter.  We can thank Capricorn Records for the emergence of Southern Rock; a fusion of blues, rock, and country music with a touch of jazz. If you dig a littler deeper, you might make the case that it was slide guitarist Duane Allman's innovative session playing at FAME Studios in Muscle Shoals that single-handedly paved the musical cow path for Southern Rock.
Capricorn's roster of artists started with Duane Allman and blues guitarist, Johnny Jenkins. The roster expanded to include The Allman Brothers, Elvin Bishop, Bonnie Bramlett, Delbert McClinton, Jonathan Edwards, Alex Taylor, the Marshall Tucker Band, Sea Level, Black Oak Arkansas and Wet Willie.  In 1979, after a contentious distribution agreement with Polygram the label was forced into bankruptcy. But, man, Capricorn left us with a legacy of timeless classic rockers.
Keyboardist, Chuck Leavell, who was just barely out of his teen years was fortunate enough to ride the Capricorn wave. In Chuck's words, he 'radiated the 88s' on many of Capricorns' recordings. On Dec 3, as the musical director, Chuck will host the "Capricorn Revival Concert". A night of music inspired by the legendary artists from the birthplace of Southern rock.
Click here for tickets
Learn how to play rock and blues piano from one of rock's greatest. Chuck Leavell, legendary keyboardist for The Rolling Stones, The Allman Bros, Eric Clapton, John Mayer, and more.