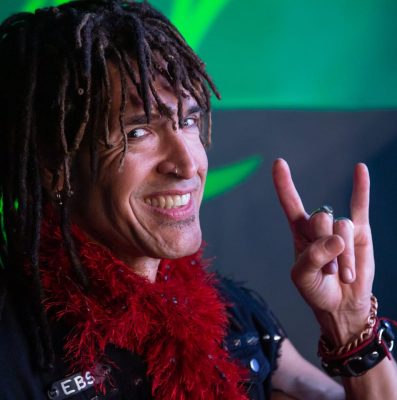 Singer, songwriter, and multi-instrumentalist Jason Ebs toured internationally with Peter Criss as front man for "CRISS" on the "Bad Boys of KISS Tours" along with Ace Frehley's Band. He's also played with Terri Nunn's BERLIN, and his original band "ECOTONIC" features drummer Chris Slade from AC/DC and his wife Janea Chadwick Ebs (Joe Cocker).  As a Rock Star Counselor at Rock and Roll Fantasy Camp, Jason helps to change peoples lives by preparing campers of all ages and levels to jam with world renown Rock & Roll Royalty.
Jason performs as a singer in "Raiding The Rock Vault" at the Rio Casino Las Vegas, and you can catch him playing around in his Jet Velocity All Star Band with a revolving cast of musicians who've played with Joe Cocker, The Cult, Megadeth, CHER, PINK, Alice Cooper, Van Halen, Black Sabbath, and many others. His "Jet Velocity Holiday All Star Band" made it's debut on the 89th Annual Hollywood Christmas Parade Benefiting Marines Toys for Tots on the CW Network and performs at this historic landmark fundraiser every year.
.
Jason's unique vocal teaching approach will help you truly understand your voice, harness your strengths, and improve upon your weaknesses to make you the best you can be! And his Guitar & Bass teaching stylings will help you greatly improve your ear and help you to play what you hear in your head! And you'll hear some great rock & roll stories along the way…
Onward and Upward!