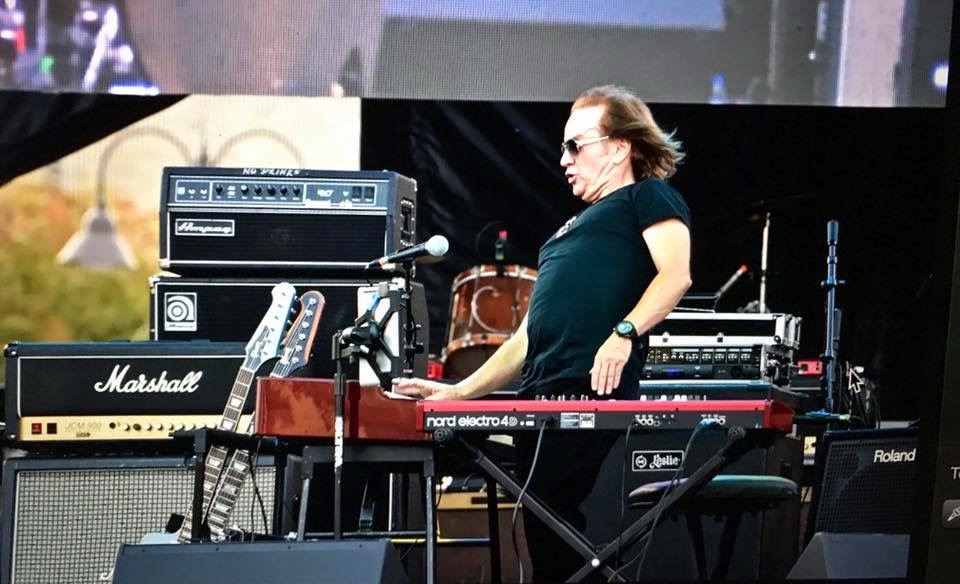 IROCKU is delighted to welcome Eric "Scorch" Scortia to our team of writers and instructors. Texas-based Eric "Scorch" Scortia is a multi-keyboardist and bandleader who specializes in blues, rock, jazz, gospel and country. He has decades of touring, performance, and teaching experience  and holds a degree from the University of North Texas School of Music. Early in his career, Scorch became friends with fellow keyboardist Chuck Leavell while they were on tour together, and is proud to join up with Chuck again on IROCKU.
Scorch has performed with numerous legendary musicians, including Stevie Ray Vaughan, Wynton Marsalis, Delbert McClinton, Bo Diddley, and many more. He has recorded on and produced numerous album projects and has four solo albums featuring him on Hammond B-3 organ. Of those, two  charted in the top 10 and top 20 in the jazz radio format. Scorch's press coverage includes features in Jazz Times, Jazziz, and Billboard Magazine and ee has also been referenced in various books, including: The Hammond Organ, Beauty and the B  by Mark Vail, The Life and Times of a Poor and Almost Famous Bluesman by Omar Dykes; and Texas Music by Rick Koster.
Scorch's teaching approach is to customize each lesson to fit the individual student's needs by putting together a tailor-made curriculum covering performance and performance prep, music theory, technique, songwriting, and styles appropriate for the student's musical goals. He works well with all ages, from beginners to pros.  One of his local Dallas-area students includes blues prodigy Dylan James "Boogie Boy" Shaw. Scorch has taught as an Associate Professor in the commercial music department at Collin College with an emphasis on audio engineering, live sound, and performance ensemble. He currently serves on the advisory board of the school's Commercial Music department. He has given master classes at the University of North Texas College of Music on the Hammond B-3 organ .
Not only does Scorch have decades of experience playing the piano, he knows the instrument inside and out as a piano tuner and technician with more than 25 years as a member of the Piano Technicians Guild. Most memorable tunings include John Lennon's famous Imagine piano, plus concert tunings for The Eagles, Chick Corea, Burt Bacharach, McCoy Tyner, Ben Folds, Eddie Palmieri, the Wayne Shorter Group, and Bill Gaither. As a voting member of the Grammys, a Hammond organ artist endorsee, and former keyboard clinician, Scorch is also a member of the Nashville Songwriters Association International, the National Guild of Piano Teachers, and is a long-time member of the American Federation of Musicians.
Scorch can't wait to share his knowledge and experience with his students and will contact you directly to schedule your lessons.