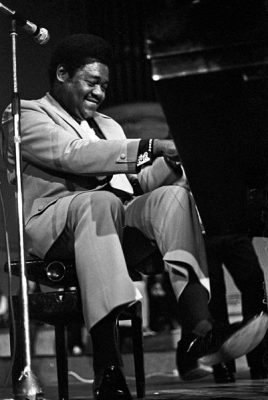 Fats Domino was one of the true architects of rock 'n' roll and an absolute pioneer of rock piano. His swung triplet rhythms have become cornerstones for rock piano players. Paul McCartney's "Lady Madonna" was written to pay homage to Fats Domino's signature style in his song "Blue Monday". Elvis Presley considered Fats Domino to be "the real king of rock'n'roll". Borne Antoine Domino Jr. the son of a violinist, Domino taught himself ragtime, blues, and boogie boogie. He went on to sell 65 million singles, and recorded 23 gold records.
Fats Domino is currently ranked 20th in our poll of The Greatest Rock Piano Players. Who is your favorite keyboard player? Favorite song?
The following Fats Domino songs are all ranking in our Top Keyboard Performances poll:
Blueberry Hill
Blue Monday
Swanny River Hop
You Left Me
Whole Lotta Lovin'
Learn how to play rock and blues piano from one of rock's greatest. Chuck Leavell, legendary keyboardist for The Rolling Stones, The Allman Bros, Eric Clapton, John Mayer, and more.