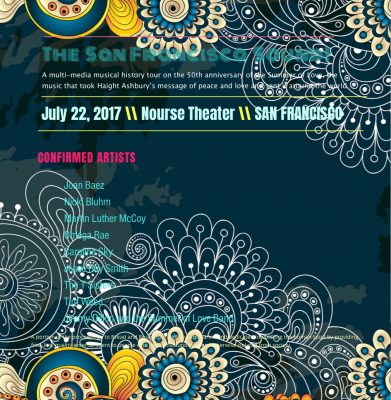 Jimmy Dillon's Acoustic Blues Guitar Lesson
IROCKU contributor and instructor, Jimmy Dillon, is music Director of the "Summer of Love" celebration.  Jimmy Dillon, Clarence Clemons' right-hand man in the Red Bank Rockers, leads the Summer of Love Band, featuring keyboard ace Frank Martin, Oakland bass stalwart Eric McCann and drummer Kirk Snedeker.
On the 50th anniversary of the Summer of Love, the music that took Haight Ashbury's message of peace and love and sent it around the world will be celebrated in "The San Francisco Sound," a multi-media musical history tour at 8 p.m. Saturday, July 22, in the beautifully-restored Nourse Theater in San Francisco.
Joan Baez, inducted this year into the Rock and Roll Hall of Fame, heads a cast of rising young Bay Area singers putting a fresh new sheen on great old songs by the Jefferson Airplane, Grateful Dead, Janis Joplin, Jimi Hendrix, Quicksilver Messenger Service, Sly and the Family Stone, Santana and other groundbreaking bands from the psychedelic era.
source: https://www.67summeroflove.com/press-release
Learn how to play rock and blues piano and guitar from one of rock's greatest. Chuck Leavell, legendary keyboardist for The Rolling Stones, The Allman Bros, Eric Clapton, John Mayer, and more.